This is my R100S Project Bike: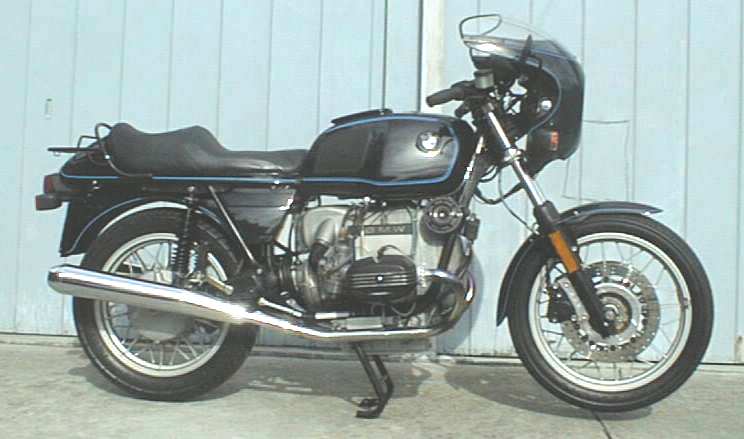 Apparently a base 1978 model year R100S motorcycle.
Originally set up by Fritz Scherb, of KnoScher, Munich.
Imported & sold new in 1979 by ManxMan, San Francisco.
I am the third owner (Rich Wood, Jim Ghiron, Me).
I bought it in about 1984 in somewhat deteriorated condition.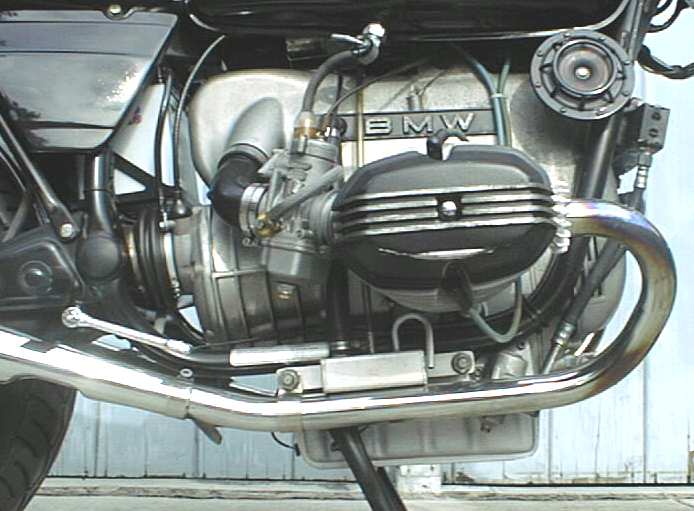 Current "special" features:
Blueprinted engine.
Factory after-market cam, part # not known but not 334.
Balanced bottom and top end.
Light wristpins.
High-compression pistons.
Lightened flywheel.
Light pushrods.
Dual concentric valve springs.
Del 'Orto 40mm carburetors.
Factory 40mm exhaust system.
Some head flow work.
Dyna III electronic ignition.
Twin spark plugs per cylinder.
Oil condenser / recirculation at crankcase breather.
3 quart Heukerot oil sump.
Factory oil cooler.
Factory close-ratio 5-speed transmission.
Factory 33/11 final drive with disk brake.
Factory 1984 forks & sliders (for Brembo calipers).
AfterShocks revised front suspension.
Fork Brace by TeleFix.
Twin floating front disks from M.A.P. Engineering.
Handlebar brake master cylinder (Magura).
Galfer stainless steel brake lines.
Koni rear shocks.
Sigma (VDO) BC-800 digital speedometer / odometer.
Oil pressure, oil temperature, clock, voltmeter.
KnoScher rear-set foot pegs.
K-1 handlebars.
KnoScher front fender.
R90S fairing (frame mounted on modified R100RS bracket).
R90S seat pan with Corbin seat.
Factory /7 police tank with tool box.
I think that's about it.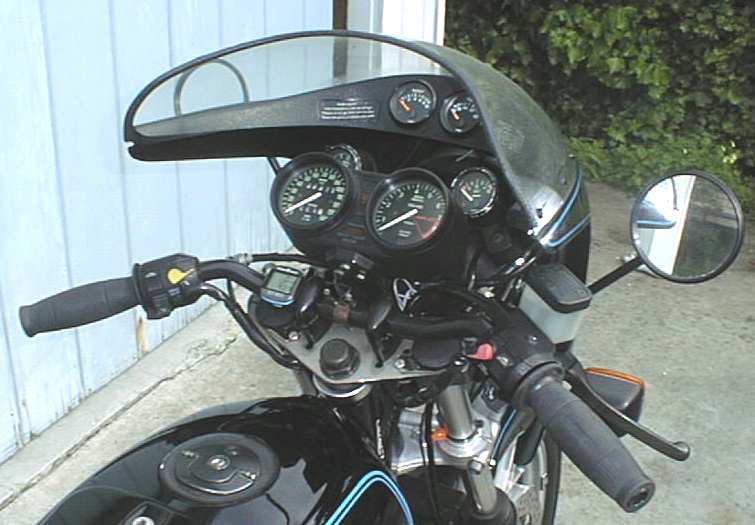 This bike has achieved an indicated 140mph two-up.
(This was prior to installing the 33/11 final drive.
It was a little taller then.)
Power band extends well beyond redline, I have taken
the RPMs very high without loss of power and without
damage to valves etc.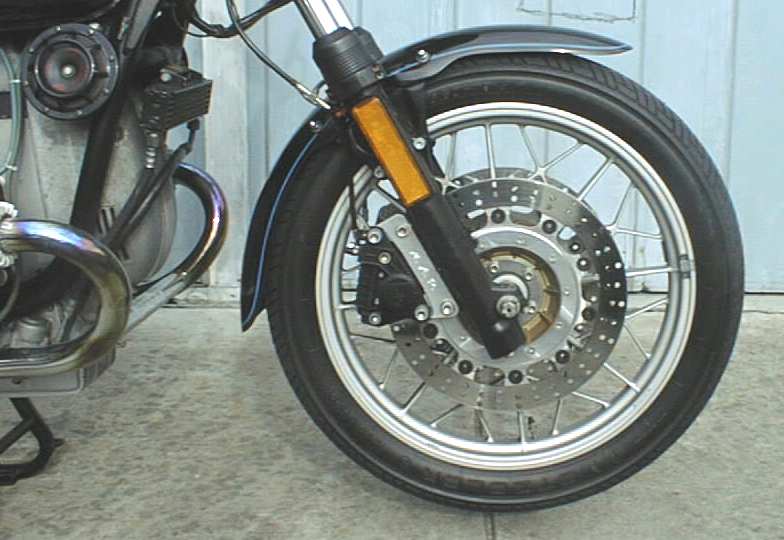 The single most significant handling improvement has been
to frame-mount the S fairing. (The original KnoScher body work
was removed by a previous owner.)
Since these photos, I've removed the airbox and installed big K&N's like it came from KnoScher. The top end is way better this way.
Mark Ketchum - Berkeley, California